FREQUENTLY ASKED QUESTIONS
Q-1: How is Tile Made?
The process of making tile is dependent upon which materials are being used. Stone is a natural substance resulting from the processes and physics of nature whereas ceramic and porcelain tiles are man-made products produced from clay and fired in a hot kiln at various temperatures.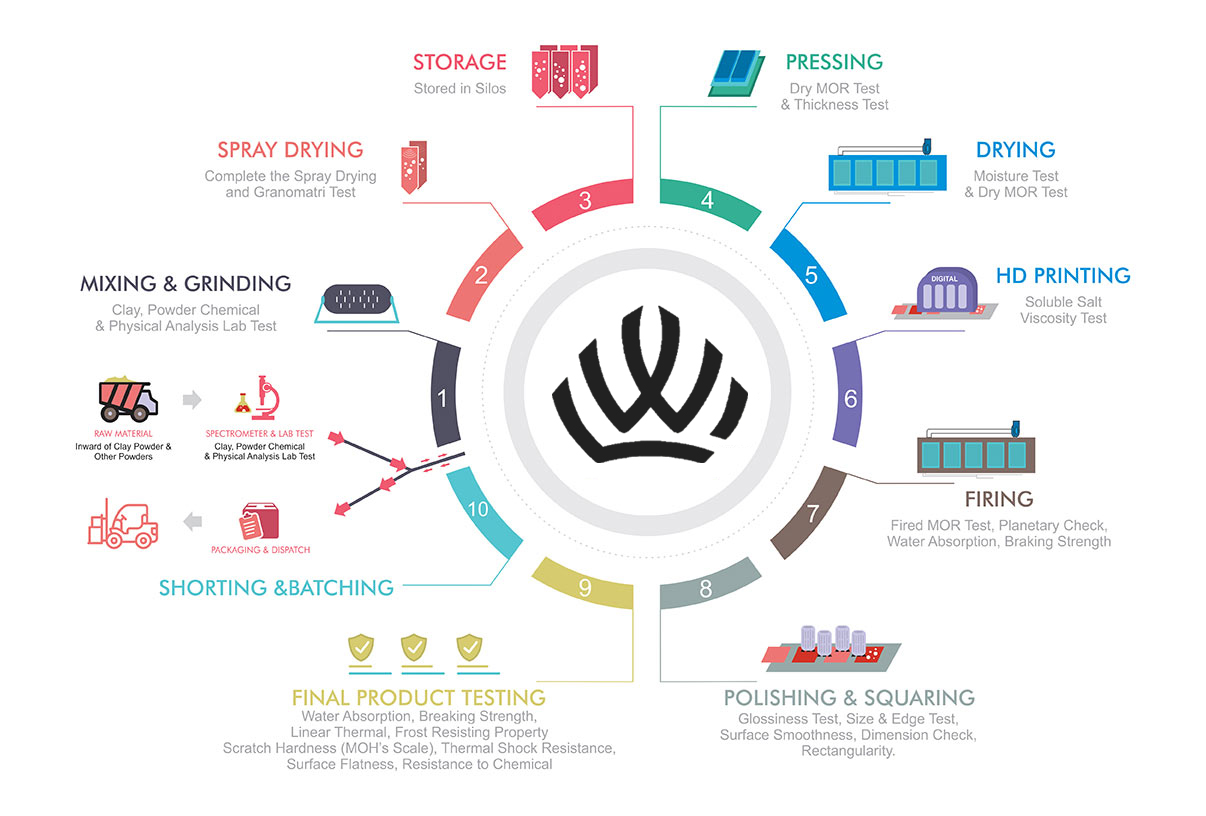 Q-2: What is the difference between CERAMIC & PORCELAIN?
While ceramic and porcelain are both man-made tiles produced from firing clay and other minerals, the main difference is that porcelain is more resistant to moisture, staining and water due to a blend of fine-grain clays and other minerals fired at a much higher degree temperature than ceramic tile.
Q-3: Are CERAMIC & PORCELAIN Tiles Environment Friendly?
Yes, ceramic and porcelain tiles are environmentally friendly because they are:
Low maintenance products, making them easy to clean with just water instead of harsh chemicals or cleaners that are often needed to treat or clean other flooring options.
Fired in kilns to extremely high temperatures, eliminating volatile organic compounds (VOCs) from finished products. VOCs contribute to a wide variety of health problems, making ceramic and porcelain tiles a better option for maintaining/improving indoor air quality.
Inhospitable to dust mites, mold, germs and bacteria when sealed and maintained properly. Tile is often used to replace carpet for people with allergies and asthma.
Sustainable. Ceramic and porcelain tiles are some of the longest lasting flooring products on the market, making them longer lasting than carpet, vinyl, or laminate flooring when they're properly installed and maintained.
Q-4: Types of tiles?
The term tiles can be mystifying. Mostly tiles that are made from clay or a combination of clay and other materials, then kiln-fired, are considered to be a part of the larger classification called "Ceramic Tiles". Such tiles can be split into two groups, porcelain/vitrified tiles and non-porcelain/vitrified tiles. The non-porcelain/vitrified tiles are frequently referred to as ceramic tiles by themselves, separate from porcelain/vitrified tiles.
Ceramic tile (non -porcelain/vitrified tiles) : Ceramic tiles are generally made from red/white clay fired in a kiln. Ceramic tiles finished with a durable glaze which carries the color and pattern. These tiles are used in both wall tiles and floor tiles applications, softer and easier to cut than porcelain/vitrified tiles and usually carry a PEI 0 to 3 of rating. These types of ceramic tiles are usually suitable for very light to moderate traffic and generally have a relatively high water absorption rates that makes them less frost resistant and they are more prone to wear and chipping than porcelain tiles.
Porcelain/Vitrified tiles : These tiles are generally made by the dust pressed method from clay which results in the tiles that are dense, impervious, fine grained and smooth, with a sharply formed face. Porcelain/Vitrified tiles normally have a much lower water absorption rate (less than 0.5%) than ceramic tiles which makes them frost resistant or frost-proof. Different types of porcelain/vitrified tiles are:
Nano polished vitrified tiles : If you apply a layer of liquid silica on vitrified tiles then it fills the micro (nano) pores on the tiles surface and makes it smooth. These tiles are called nano polished vitrified tiles.
Double Charge vitrified tiles are fed through a press that prints pattern with a double layer of pigment; they are 3 to 4 mm thicker than compared to other tiles. This process does not permit complex patterns but results in a long-wearing tile surface, suitable for heavy traffic and vast commercial projects.
Full body vitrified tiles have pigment in entire body (thickness) of the tiles. This makes chips and scratches less visible and gives an ideal choice for high traffic zones, but the process considerably increases the cost.
Matt Porcelain Glazed Tiles / (GVT) are glazed surfaced tiles. They offer a vast variety of design, art work and surface textures like wood grain, bamboo, slate or stone. This tile is now printed through digital printing technology.
Polished Porcelain Glazed Tiles / Polished Glazed Vitrified Tiles (PGVT) are similarly the GVT tiles in glossy form.
Q-5: What is a Glazed wall tile?
Glazed wall tiles are ceramic tiles that have a high absorption of water with one side that is glazed. They are perfectly suited to interior walls.
Q-6: What are glazed and unglazed floor tiles?
Glazed floor tiles are coated with a glassy finish which often contains color, texture, or design and is fired at significantly high temperatures. Unglazed floor tiles do not have such surface as the color forms from the body within the tiles. It can be natural color from the clay or other minerals and can be added to the mixture before forming and firing the tiles. Because the color extends through the complete tile, these are great for high traffic areas as they do not show wear as easily.
Q-7: What is Digital Wall tiles?
The term digital technology refers to the tiles design that is printed onto the surface. Today, images that are created from photographs using a computer program are then applied to the tile by use of ink jets, much like modern office printers. With such technology usage, the designs are more exciting and attractive than ever.
Q-8: How to calculate the quantity of Tiles?
Length * Width of the area to be covered will give you square footage.  Most installations add 5-7% for cutting loss and is enough to keep on hand for any repairs. When the installation is on a diagonal or when you use a multi-size pattern, you should add 12-15%.
Q-9: Can new tiles be fitted on an old tiled floor?
Yes, it is absolutely feasible to fit new tiles on top of an old tiled floor. However, it is not advisable as there's a higher cost and you would possibly reduce the headroom (height between the floor and the ceiling). However, if you still want to go ahead for tiling on an old floor tiles, be careful the existing surface provides a good grip. If flooring is of glazed tiles then they have to be roughened to give a good grip to the new floor.
Furthermore, there are some other aspects as well that you have to take into consideration before deciding to fit new tiles on an old tiled floor. You need to allow the thickness of the tiles that you are laying in addition to approximately 6-12 mm for the cement slurry/adhesive, depending on the type of flooring to be laid. After adding thickness top of your existing floor, you can still be able to open doors.
Q-10: Can ceramic tiles are suitable for outdoors?
Ceramic tiles can absolutely be used outdoors; we recommend that the tiles must be frost proof and unglazed to be used on floor. Make sure the absorption rate is 0.5% or less.
Q-11: Various types of fixing tiles?
The tiles can be either dry fixed tiles or wet fixed tiles. The dry fixing tiles are fixed by using conventional cement mortar. Wet fixing is done by using special adhesives that can fix tiles directly on the existing flooring.